Balmain Menswear Spring/Summer 2019
Model Hannah Holman Dishes On Daisy Eau So Fresh
The latest Daisy fragrance has launched for spring, aptly named with rising model Hannah Holman as the face of the scent. The fragrance is aimed for a younger audience, with notes of grapefruit, raspberry, wild rose and jasmine. The bottle is also a large selling point for the scent, with the pink liquid being topped off with a bouqet of white, yellow and pink daisies.
We sat down with Hannah to talk about her work on the campaign and her personal and many upcoming projects. Read on below for all you need to know on Ms. Holman!
What was the creative process like to shoot and work with Marc Jacobs and the whole team behind the campaign?
It was amazing, it was inspiring, actually. Theyre such a great team, theyre so relaxed. They say do your thing, do whatever you want to do and they give you guidance but they want it to be natural. And , hes very fast actually. We had three days to shoot it and Im pretty sure he had everything the first day and he was saying, Oh I dont know what to do next. And I saw a horse and I said, Horses, we should go riding horses. And he said, Okay lets do it. And we asked production to get us a horse and that evening we got on the horse and he said, This is great, but its mostly just for fun, I think we already have the shot. And he ended up loving it, loving the horse. We got him to ride and he had never ridden a horse and he goes, How do I make it stop? how do I make it stop! bouncing. And it was quite funny. The woman with the horse was terrified. But it was really fun and really easygoing and I just had to lay there and do something.
In terms of the campaign itself, how did this differ from shooting from other campaigns? It looks like it was such an easy, fun shoot.
It was. Like I said, he kind of just said, do your thing. At the same time, he would give you guidance, and say, I like it when you do this or that. He [Marc Jacobs] chose the location with Juergen, we had our vans and wed drive around and hed go, Stop stop! Lets go over there! He was up for suggestions and he just wanted to be inspired, so he just let things take their own course and observed, and waited to be inspired.
Why do you think the fragrance is so fitting for spring?
The smell first of all. When you smell it, at least I do, I think of somewhere thats not really warm, but somewhere thats happy and radiant. And always the bottle. Very summery, very spring/summer and it would definitely be a fragrance Id wear in the spring and summer because theres not a lot of musk. Theres musk but Daisy, the , is more so. So its something that Id wear maybe in the summer but in the city, but Daisy Eau So Fresh seems like something youd wear in more of a remote place, like on vacation. In the country, or if you were wishing you were in the country.
What are some of your beauty secrets, things that you do everyday that are part of your routine?
Bio-Oil. Definitely. You put it on and it kind of keeps everything on track. I usully mix that with a bit of lotion in my hand, rub it together in my hands after I wash my face. And eye cream daily. I try to wash my face twice a day, but sometimes that doesnt always happen, its time consuming so I use the wipes. I think less is better.
What would you say your beauty style is and how do you incorporate fragrance into that?
Im usually always wearing something, but Im very particular with my smells, I like a more musky scent. I have quite a sensitivity to certain smells. If theyre too flowery. I think this one is good with the raspberry, and the fruits and the musks. I wear it daily. I dont really switch it up much, Ill wear one for a month or two and then Ill get bored and want to try a new one. If Im going on holiday somewhere its always fun to have a smell to remember the holiday. But usually people say Oh you smell good, what are you wearing today? I remember when you used to wear this or that and you smelled really good. So when people say things like that its good that they have something to remember you by, smells to remember you by, as creepy as that sounds.
Fragrances evoke memories. Do you have anything like that, where a scent reminds you of a certain place or time?
Do I have a memory? Actually this is quite a funny story. The Daisy, the original Daisy, I have a memory with. I was about 16 when it first came out. I was in the shopping mall with my mother buying my first perfume. I mean, my boyfriend had bought me one before, but I never really had a proper perfume. It was like from Bath and Body Works or something. So I was going to buy this perfume and she was advising me not to, she was saying not to get something that was too strong or too powerful and dont mix it with your deodorant smell or your lotion smell or your hairspray smell, it takes away the curiosity, there are too many smells going on. So she said, "When you wear the perfume, just wear the perfume." And this is all while shopping for my first perfume, which was Daisy. So I was holding the Daisy bottle when she said this. So when I got this Daisy campaign, I thought, "This is so odd."
This is obviously a huge deal because its . How does that feel at this point in your career?
I was very excited. As you know, his perfumes and beauty campaigns are the biggest deal to a model and a photographer, and everyone for that matter. The fact that it was Marc Jacobs, I had always been a fan. Growing up in Utah I wasnt really into fashion, but he was one of the people that I did know of, that I was aware of. So after doing his campaign a couple years ago and working with him every season, I was really honored. And I knew it was going to be easygoing and it was going to be fun. And I knew the team so I was really comfortable and I was happy to be representing him because Marc, himself, is such a good guy. Hes actually one of the best in the industry, I think. And his casting is always so great, the girls have food, and hes always apologizing for having them there so long, where other people, you could be sitting in their office all night long for fashion week, like 3:00 or 4:00 AM and they dont even care to get you anything, to order you pizza. And hes always aware of the girls, and taking care of the girls, so I was happy to be representing him.
Your makeup in the campaign is natural and youre natural today, is that your normal routine?
I definitely go natural. If I do do something thats quite elaborate its for a purpose, like Halloween or something. And then I have a friend do it. Ive always been pretty natural, my mom taught me that as well. I did go through a phase of wearing loads of makeup when I was a kid, but I do believe that less is more and it can really bring out the outfit that youre wearing, its not an overload. And also its better for your skin, the less makeup, foundation, concealer that you wear. I normally just put the lotion and Bio-Oil on and a bit of concealer where I need it. Unless Im having a really bad day, then I use tinted moisturizer. Because then overall you can wear less because your pores aret being clogged and your skin can breathe. And I do believe that if you wear a heavy lip or an eye, have it be an eye, unless its a bit of mascara and lip, but if youre having a , it should just be a powerful eye.
How would you describe your personal style?
This is funny, this month I went shopping with my friend who is a stylist and she was saying Who do you want to dress like and I said "I dont know, me?" I want to make my own style. And I was talking to my friend and saying what do you think? and he was saying oh I like the way you dress so I asked what he would call it and he said bohemian chic. And I always say classy and cool, so its quite the same. I like to keep it simple and classy and then throw a bit of something cool in. Again not too much, but just enough.
Tell me about the outfit youre wearing.
This is Marc by Marc. Me and my roommate were home and I was thinking what could I do with it and she had this jacket she had gotten from trade and its from and it had sleeves and these jewels here, and she said get me my jacket and I didnt think it would look good so she said get me my scissors so we just start tearing it apart and just start tearing out the lining and the sleeves and tore off the beading and didnt go any farther luckily. This is all last night. We got carried away. But we do that quite often. And lucky for us, we get free clothes, because I might not tear my own jacket up. We do that quite often, if I get bored of something then Ill tear it up or change it, make it my own. And I think feeling comfortable as well. I know some things I look great in and have gone to shoots and theyve said, Oh you look amazing you should wear this all the time and I think, Youre right, I do look pretty good but you know, I think its all about feeling comfortable. Looking comfortable is better than having good looking clothes I think. Because then your overall expression, weve all heard this, feeling good on the inside says a lot on the outside. More than what youre wearing. I think feeling comfortable in what youre wearing.
Whats the one thing you cant leave the house without?
Phone. No but beauty-wise. Dermalogica has this cream called and its amazing, especially when youre flying. It feels like it puts this layer on your skin, and I actually always take that everywhere. That and is awesome. I take both of those everywhere. The lip ointments also good if you have dry skin, hormones and things, you get dry skin on your chin and you can put the Paw Paw on that too. And its good for your hair. If you have frizzies or something, just put a little bit in your hands.
We know that you've already started to DJ, what other projects are you working on, whats the next move for you?
Im actually starting to design jewelry, which Im really excited about. Ive always been a fan of jewelry and my brother makes jewelry, this one here he made. Its a fossil, the black one there. Thats the only one of his Im wearing today, but he makes loads of jewels and Ive always been really into it. And I was talking to , who does the jewelry for Marc by Marc, and she actually has her own line and she designed an earring for me, I was like, Do you have one like this? and she said, No but Ill make it and made an earring. And I was talking to her this season and saying I wanted to make jewelry and she said to just do it, because she just started making her own and so, at the end of the season she wants me to design one, so it will be for Katie Hillier and start from there, Im still young, I still have time luckily. And hopefully once Im done modeling Ill have my own jewelry line. I have some ideas, but I keep forgetting, theres so much going on, she tells me to take a sketch book around, I need to start.
What are some of the best hair and makeup tips youve picked up along the way?
This one is actually a bit creepy, hemorrhoid cream for your eyes. But you can actually only buy it in Europe, because in America theyve taken out the agent that takes down puffiness, or it has less alcohol, or something. Its different in America, buy that in Europe. With your hair, I dont do anything with my hair. I wash it and condition it and once in a while Ill do a mask during fashion week or something. But I dont blow dry it or anything, and hairdressers always say Oh your hairs so good for being bleached, what do you do which, its not anymore, but I just say I dont do anything, thats the best way. My roommate always complains about her hair but she blowdrys it everyday. So I think the less you do, it keeps it healthier. Ive learned little tricks, curls, but I dont really do them. With makeup, this is one thing I do now. I was quite young when I started so I didnt, but patting the base in, the concealer, instead of rubbing it. Not picking. I love to do that, so not picking. And mascara, start at the root. Its things that everyone in fashion knows, but to me, I didnt.
Video: imadu - Creature State
Model Hannah Holman Dishes On Daisy Eau SoFresh images
2019 year - Model Hannah Holman Dishes On Daisy Eau SoFresh pictures
Model Hannah Holman Dishes On Daisy Eau SoFresh recommendations photo
Model Hannah Holman Dishes On Daisy Eau SoFresh foto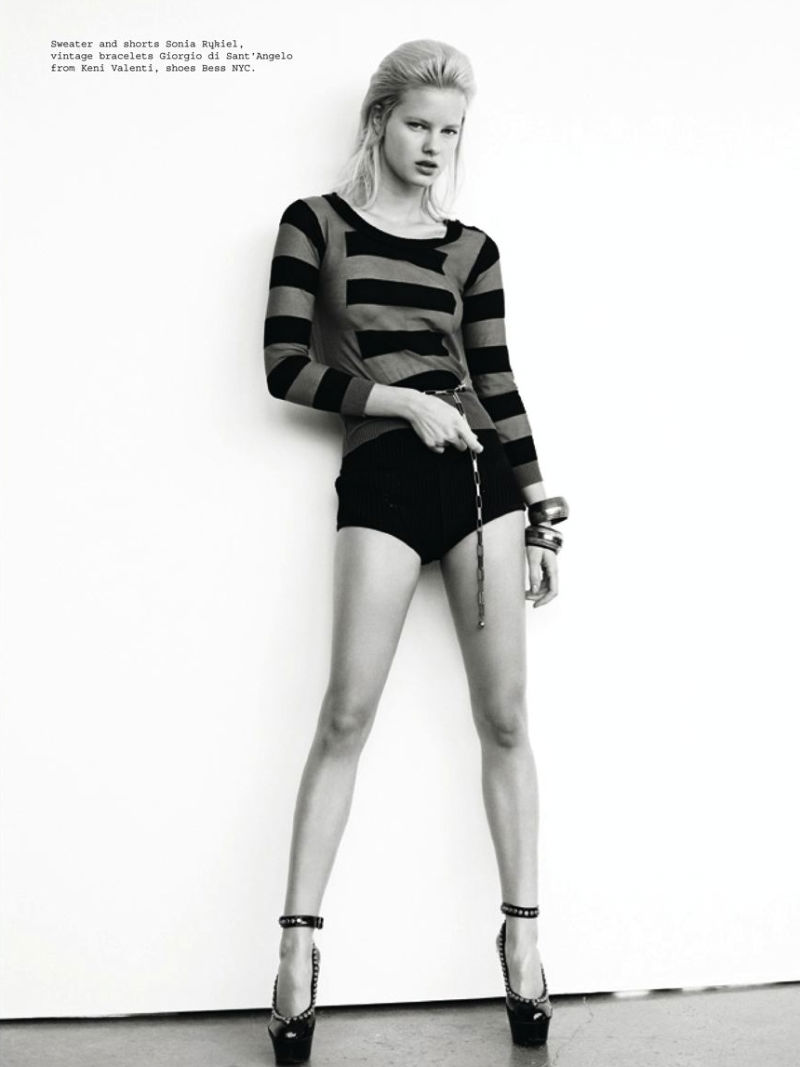 Model Hannah Holman Dishes On Daisy Eau SoFresh new pics
foto Model Hannah Holman Dishes On Daisy Eau SoFresh
Watch Model Hannah Holman Dishes On Daisy Eau SoFresh video
Communication on this topic: Model Hannah Holman Dishes On Daisy Eau , model-hannah-holman-dishes-on-daisy-eau/ , model-hannah-holman-dishes-on-daisy-eau/
Related News
Bitcoin price: Why are cryptocurrencies crashing
Chloe Spring 2019 Campaign Is About Bohemian Carefree Style
How to Get Rid of Ear Wax
How to Clean Nose Pores
How to Use Aromatherapy for Nausea
What Will It Take For You To Start Loving The Body You Have Now
What Its Really Like To Get A Vagina Facial
The forgotten female soul singers who changed the music world
Top Buys: Spring Trenches
Guaifenesin-Theophylline
Carrie Fisher And Debbie Reynolds' Celebrity Friends Turn Out For Emotional Memorial Service
Date: 18.12.2018, 20:16 / Views: 71175
---