Battlefleet Gothic: Armada - The Warp Storm Rages Cut Scene
How to Enter the Goth Scene
The goth scene is part of a large community of people who have common ground in music, and sometimes fashion. The goth rock genre originated from the British post punk scene in the late 70s/early 80s, while the subculture itself flourished from Gothic literature and horror movies with influences from other cultures, fashions and religions such as Egyptian, Pagan, and punk. Being part of the subculture can sometimes be a big commitment so read on if you think you're interested!
Steps
Do some research on the scene!

If you're interested in something, you naturally want to learn about it, right? The same goes for being part of a subculture, especially since it's important to know your roots and background and on something you claim to be part of. This will also help you get acquainted with other goths in the future, once they know you know history on the subject then they'll warm right up to you. It will help you become more comfortable and settle in the scene quicker. Some facts to help you include:

The goth subculture originated out of the British post punk scene in the late 70s / early 80s, and takes inspiration from Gothic literature and horror movies as well as several other religions, cultures and fashions such as glam punk, new wave, Egyptian, Pagan, Celtic and Christianity mythology.
The 1979 singleBela Lugosi's Deadby Bauhaus was said to be the song that defined the goth rock genre.The song wasn't supposed to be taken seriously, but Peter Murphy performed it with naive seriousness, making the audience understand it differently than intended.
In 1982, The Batcave opened in London by members of the band Specimen.Although the Batcave never described themselves as a goth club, many notable goth/post punk musicians performed there and it has said to have brought all the elements of the goth subculture together.
The term "gothic rock" was coined in 1967 when a music journalist described The Doors as it. Since then, The Velvet Underground and David Bowie'sDiamond Dogshave been labelled "gothic" despite not being "goth".

Listen to goth music and discover its many offshoots.

Goth, down to its core, is a music based subculture. Prior to when the term was first coined, the term "goth" was not used to describe people until it was used to describe fans of music when the subculture emerged. Goth is the basis of the subculture, the very minimum you need to do to be considered part of the scene. The clubs are based around the music, so are the shows and festivals and so is the fashion. But don't be swayed because if you've found that you don't like deathrock, it doesn't mean you don't like darkwave as they're got two completely different sounds. To start you off, check out:

Joy Division -Closer(1980)
The Cure -Pornography(1982)
Clan of Xymox - self-titled (1985)
Christian Death -Only Theatre of Pain
The Sisters of Mercy -First and Last and Always(1985)
Bauhaus -In The Flat Field- (1980)
Siouxsie and the Banshees -Juju(1981)

Remember to look for your own music. Use websites like Last.fm, Spotify, Pandora, SoundCloud, SoundClick, YouTube, Bandcamp and MusicMap to discover more goth music. If you are looking for newer goth/post punk music, try Boy Harsher, She Wants Revenge, Drab Majesty and Angels of Liberty.

Discover more goth genres.

The primary genre of goth is goth rock but don't forget about other offshoots that developed through time. If you feel like you don't like one sound, look into more bands or try a different goth genre all together. A summary of other goth genres include:

Deathrock, which is the American counterpart that formed around the same time as goth did in the UK. Developed in Southern California, deathrock is a spooky and atmospheric offshoot of punk rock which consists of glam rock imagery, punk-inflected sound and attitude, shock rock theatrics and b-movie inspiration. Notable bands are Christian Death, 45 Grave and Kommunity FK.
Darkwave, an offshoot of goth rock that formed in the 80s. It combines elements of synthpop and new wave, incorporating dark, introspective lyrics and an undertone of sorrow. However the term, originally starting out as a post punk style, eventually became its own thing as bands started to make greater use of synthesizers and drum machines. Notable bands include Clan of Xymox, Dead Can Dance and Black Tape For a Blue Girl. Fans of darkwave are called "darkwavers".
Coldwave, a subgenre of darkwave first coined by British writer Vivien Goldman in an article that review the Siouxsie and the Banshee's albumThe Scream. The sound mainly became popular in France and Belgium 90s but has since spread to other continents. Notable bands include Charles De Goal, Memorial Voice and Ruth.

Wear goth fashion.

The idea was that the fans took inspiration from their idols outfits, but never directly copied. Considering goth is from punk, goth is also DIY and making your own clothes and jewellery were popular. Now, we have mass-produced goth/alternative stores as an alternative to DIY. However, goth still does have a certain style. Popular goth garments include:

Black velvets, lace, fishnet popularised by Specimenand leather, buckles, silk, PVC or chains in red and purple.
Accessories of gloves, sunglasses, top hats, capes, corsets, cravats, riding crops, lunchbox purses, silver jewellery such as earrings, nose rings, bracelets and necklaces depicting religious and occult themes.
Peter Murphy, Robert Smith, members of Specimen and Dave Vanian all inspired men's goth fashion.
Body modifications such as tattoos, contact lenses, fangs, decorative scarring and piercings in places like lips, eyebrows, and belly buttons.

Get the hair and makeup.

Hair was a large part of the style, and is very high maintenance.

For the traditional goths, hair was typically, shaved, crimped, spiked or backcombed/teased like Siouxsie Sioux or long and straight like Patricia Morrison's and dyed jet black, although they have experimented with unnatural colours, including white, purple, blonde and red in the past.
Eye shadow in block colours such as electric blue, purples and metallics were popular, as well as using eyeshadow for contour. White foundation was used to get the palest complexion and lips were painted blood-red hooker or black lipstick. Nails were coated in dark colours. Eyebrows were thick and triangular or thin and high arched like Morticia Addams'.

Attend Goth concerts, festivals or bars/clubs.

Since the Batcave has closed, Goths found other ways to celebrate their subculture. Living in cities means there's more chance of finding a Goth scene, or at least a dark scene. Try and get involved and helping it out by keeping it alive. Some suggestions are becoming a DJ, musician, Goth/post-punk/darkwave night organizer and concert promoter. Some places or events you can take place in are:

World Goth Daywhich is on the 22nd May of every year.
Whitby Goth Weekendwhich is a bi-annual festival held in Whitby.
Wave-Gotik-Treffenwhich is the biggest "dark" festival in the world, held in Leipzig, Germany.
Numerous clubs goth/alternative clubsin the U.S and Europe.

Inspire and educate others.Educating people is one of the most important parts of being goth. Without knowledge of the background, history and what really makes someone goth, you can't pass down the legacy. When an elder goth spoke, you listened. And it wasn't out of respect, it was because you were genuinely interested in what they had to say.These days, people have been taking goth values and what makes goth "goth" and throwing them out the window claiming "anything can be goth" and "I don't have to listen to goth music to be goth" when that's what the subculture was originally about.
Community Q&A
Ask a Question
200 characters left
Include your email address to get a message when this question is answered.
Don't transition into the subculture too quickly, learn and observe first to make sure you're comfortable with it.
You are allowed to like other things while being goth. It's just that if you label yourself goth, then you should be into goth.
If you feel like you are being "boxed in" slow down and reconsider if this is for you. You should always be yourself.
Generally, goth and Gothic are two different things and liking Gothic things does not make you a 'goth'. Being a fan of Gothic literature makes you a dark romantic. Remember: people weren't labelled 'goth' for anything until the music.
Goth is a DIY subculture, so you should strive to be creative if you can. If you don't have time, don't worry about it.
Automatically being darkly inclined/dark minded doesn't make you goth and not everyone who is interested in dark/creepy things are goth. Goth specifically refers to someone who listens to goth and participates in goth subculture.
Warnings
Many poseurs believe in Goth stereotypes like self harming, drug abuse, suicide, wearing all black all the time, worshipping the devil, and the list goes on. You do not need to hurt yourself if you're goth!
Emo is not the same as goth and came from the Washington D.C hardcore punk scene in the mid 80s. Emo has a completely different background and history to goth.
People will call you a poseur if you call yourself goth but do not listen to any of the music; it's like being a meat eater but calling yourself a vegetarian just because you want the definition to fit you.
People are still stereotypical about goths, so oppose that stereotype by being nice, polite and caring.
There are many so called "types" of goth out there, but they are a joke and not meant to be taken seriously. Some of them are styles, but they're notgothstyles. For example, Cybergoth grew out of the industrial and rave scene in the 90s. Pastel goth grew out of Tumblr and Japanese fashion in the 10s. They just take the name 'goth' rather than being it.
Don't be an elitist. You can still like, wear or listen to anything as a goth. No one should be judging what you listen to, because it's not goth.
Sources and Citations
Goodlad, L. and Bibby, M. (2007). Goth. Durham, N.C.: Duke University Press, pp.2-3.

Venters, J. and Venters, P. (2009). Gothic Charm School. New York: Harper, pp.9, 11

Thompson, D. and Greene, J. (1994). A Study of Gothic Subculture - News Articles - Undead Undead Undead. [online] Gothicsubculture.com. Available at: [Accessed 8 Jul. 2019].

Roberts, C., Livingstone, H. and Baxter-Wright, E. (2016). Goth: The Design, Art and Fashion of a Dark Subculture. London: Carlton Books Limited, pp.178-179.

Polhemus, T. (2010). Street Style. London: PYMCA, p.97.

Hammer, J. (2012). Barbarian, Void of Refinement: A Complete History of Goth. [online] Vice. Available at: [Accessed 8 Jul. 2019].

Post-Punk.com. (n.d.). 40 Years of Goth: Essential Albums from the Genre's Beginnings. [online] Available at: [Accessed 8 Jul. 2019].

Spectrum Culture. (2013). 13 Best Goth Albums of All Time - Page 2 of 3 - Spectrum Culture. [online] Available at: [Accessed 8 Jul. 2019].

Terich, J. (2010). 10 Essential Gothic Rock Albums. [online] Treblezine.com. Available at: [Accessed 8 Jul. 2019].

Rowley, S. (2018). The Top 10 Essential Goth Albums. [online] Classic Rock Magazine. Available at: [Accessed 8 Jul. 2019].

Rebelcircus.com. (n.d.). Modern Trad-Goth Bands You Need To Know!. [online] Available at: [Accessed 8 Jul. 2019].

Robb, J. (2012). Goth revival? New bands walking on the dark side. [online] Louder Than War. Available at: [Accessed 8 Jul. 2019].

Rate Your Music. (n.d.). Deathrock. [online] Available at: [Accessed 8 Jul. 2019].

Sheppard, O. (2012). Deathrock: A Brief History, Part I. [online] Souciant. Available at: [Accessed 8 Jul. 2019].

Rate Your Music. (n.d.). Darkwave. [online] Available at: [Accessed 8 Jul. 2019].

Oglba, J. (2012). A Brief History Of Musical Waves From NEW To NEXT. [online] Noisey. Available at: [Accessed 8 Jul. 2019].

Hodkinson, P. (2002). Goth: Identity, Style and Subculture. Oxford: Berg, pp.36 - 49, 48.

Harriman, A. and Bontje, M. (2014). Some Wear Leather, Some Wear Lace. Bristol: Intellect, p.66.
Video: Introduction to Becoming Goth Lesson 1
How to Enter the Goth Scene images
2019 year - How to Enter the Goth Scene pictures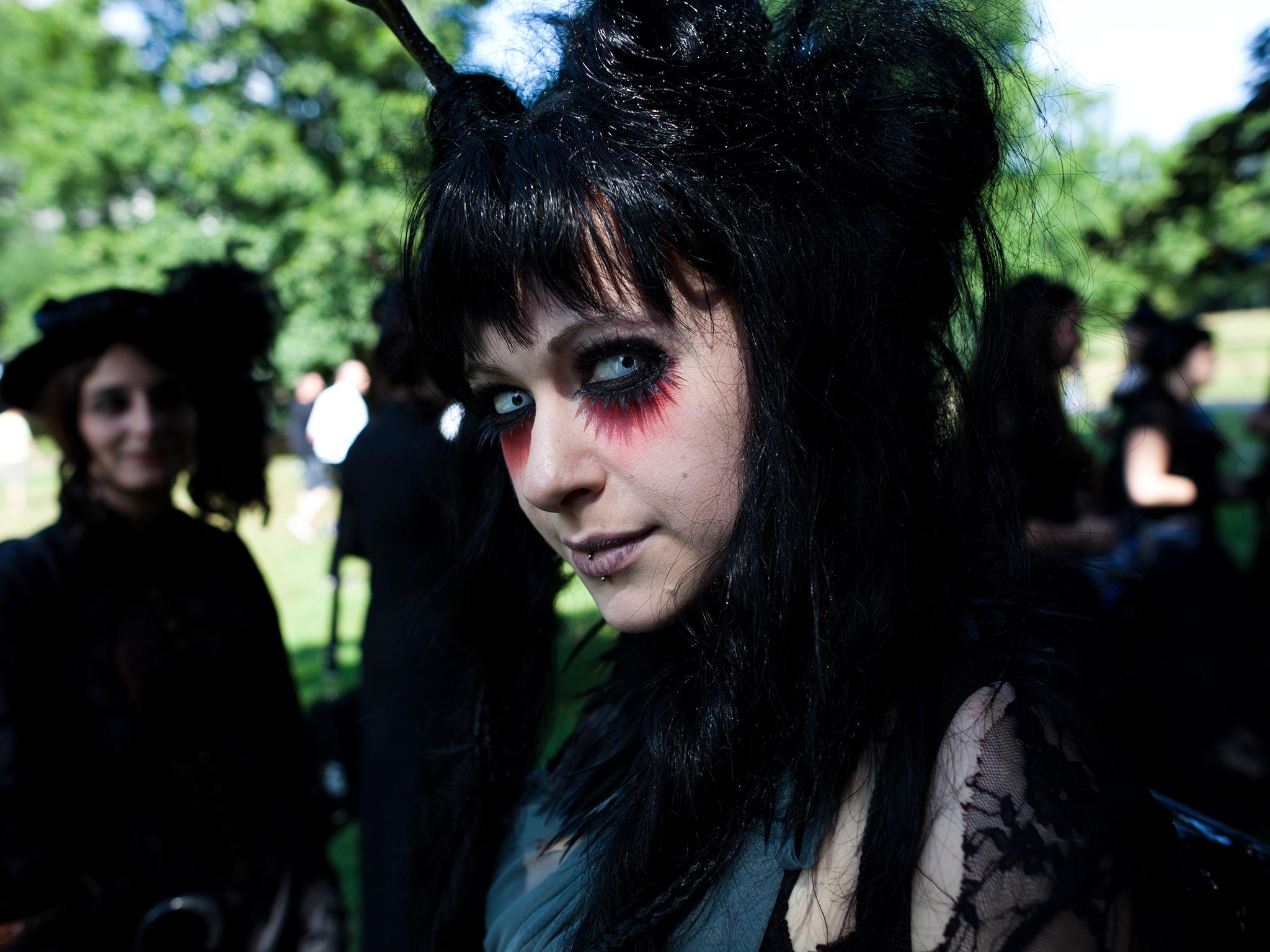 How to Enter the Goth Scene forecast photo
How to Enter the Goth Scene pics
How to Enter the Goth Scene new images
foto How to Remove Glitter Nail Polish
The Pros and Cons of Friend Groups
10 Reasons Why New Year's Resolutions FailThe Assassination of Gianni Versace Episode 4 Introduces the Unrequited Love of Andrew Cunanans LifeWhats Causing Your Eyelid Twitch
How to Follow a Low Residue DietHow to Make Almond MilkBehind the Scenes with Hollywoods Super-Mom
Watch How to Enter the Goth Scene video
Discussion on this topic: How to Enter the Goth Scene, how-to-enter-the-goth-scene/ , how-to-enter-the-goth-scene/
Related News
The Truth About Pet Vaccinations
How To Wear A Bandana In 4 Styles
10 Never-Before-Seen Marilyn Monroe Photos Go Up for Auction
Introducing the Condom Every Guy Will Be Begging to Wear
Make a high protein breakfast with Arla
The benefits of regular exercise
Ashley Graham Just Posted a Photo OWNING Her Cellulite
What Causes PCOS 7 Factors That May Affect Your Risk
How to Not Go Broke in Walmart
How to Write I Love You in Spanish
Date: 06.01.2019, 15:24 / Views: 71272
---